Retractable Awning Sales and Installation for PA, WV, and OH
Authorized SunSetter® Dealer for the Tri-State Area
Are you looking to add shade and comfort to your home or business? If so, a retractable awning may be right for you. Debby Demitras of Olympic Awnings, LLC, has over ten years of experience in directing our SunSetter® sales. Schedule a free on-site consultation with Debby today. She will be happy to share all the products, awning options, fabrics, and accessories with you, that SunSetter has to offer. Debby will also measure and determine the best awning installation scenario for your home's unique conditions. You will receive a written quote, which will include delivery, components, warranties, and installation costs. Once we receive a deposit, SunSetter will ship your awning to our storage facility within four to seven weeks. We will then schedule for our technicians to install your awning and all accessories.
Call your local Authorized SunSetter® Dealer in Wheeling, WV, today at (740) 424-0052 or contact us online to schedule your free consultation on retractable awning sales and installation. Olympic Awning, LLC, works with customers in the tri-state area of Pennsylvania, Ohio, and West Virginia.
Call on Olympic Awnings, LLC, for Retractable Awning Sales & Products
Olympic Awnings, LLC, offers expert retractable awning installation and additional products to help you make the most out of your outdoor space. SunSetter offers a convenient five or ten-year warranty to ensure that your awning provides you with long-lasting comfort. Service calls and repairs are also available for SunSetter products. Talk to our friendly representative to learn more about our retractable awning sales and other great products, including:
Easy Shades
Telescopic Flag Poles
Patio Lights
Awning Hoods
Wireless Remotes
Awning Covers
Wireless Wind Sensors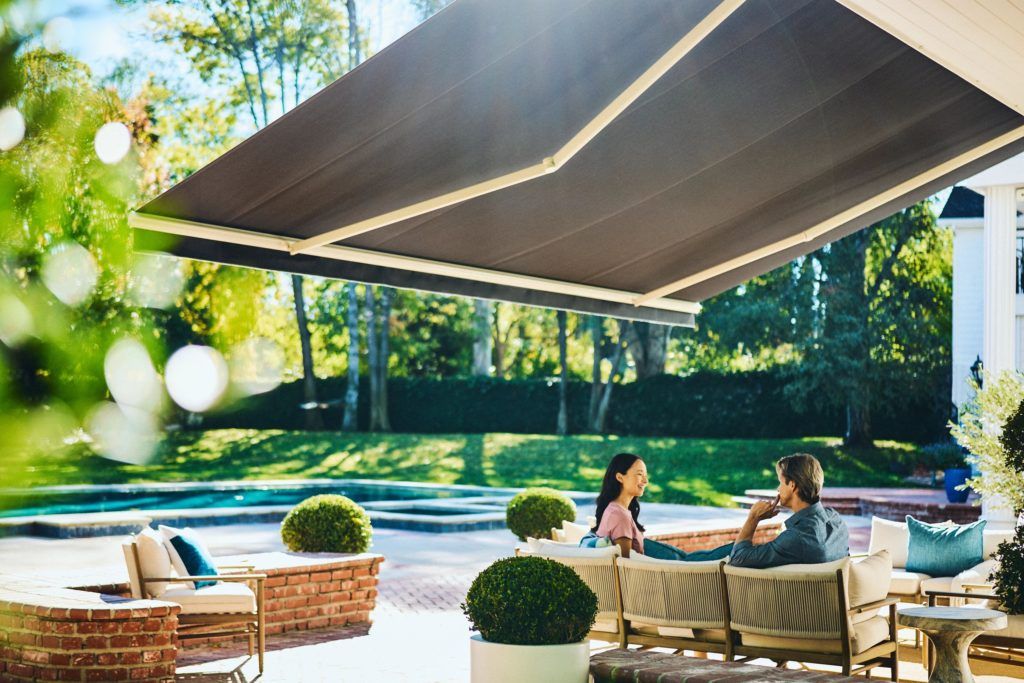 Trust Olympic Awnings, LLC, for No-Hassle Awning Installation and Delivery
As an Authorized SunSetter® Dealer, Olympic Awnings, LLC, makes ordering, processing, delivery, and installation a breeze with our years of experience. Deliveries will not be made to residential neighborhoods, so all shipments come via UPS freight to our storage facility which is only possible through dealers. Our friendly and trained technicians will take the hassle out of getting these very cumbersome awning components to your house and installed, which should take about four hours. Once your local sales representative, Debby, determines the best mounting scenario, we will mount your awning on brick, siding, under the overhang, or on the roof. For trustworthy, hassle-free awning installation, Olympic Awning, LLC, is here for you.
Ask About Roof Mount Awning and Soffit Mount Awning Installation
When there is not enough room above your windows or doors, only an authorized dealer can get you the SunSetter parts and installation expertise to mount your awning on the roof. The Olympic Awnings, LLC, technicians will secure the mount in a weather-proof enclosure, making it watertight on any kind of roof. Roof mount awnings are a great way to have both shade and additional awning height. As an added benefit, the awning is out of site when not in use. For experienced roof mount awning and soffit mount awning installation in the tri-state area, contact Olympic Awning, LLC, today. We proudly work with clients in Wheeling, WV; Washington, PA; St. Clairsville, OH; and the surrounding areas.
Contact Us or Schedule for a Free Consultation